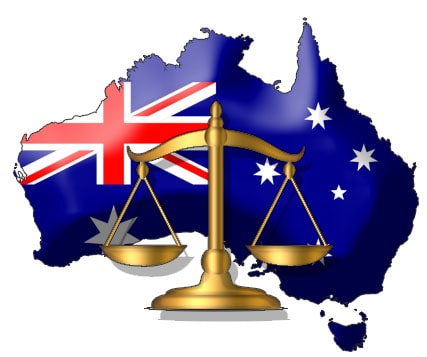 Australia's governance of its gambling offers is regulated at the Federal level and again at the regional level. This page will begin to detail exactly how each gambling law functions and what each law dictates as a legal form of domestic gambling. While the Australian Federal government can apply laws to govern all of Australia, individual states and territories are granted the right to impose their own regulations and limitations.
Interactive Gambling Act 2001
In 2001, the Australian Parliament reacted to the growing issue of domestically based online operators serving local Aussies by creating the Interactive Gambling Act of 2001 which limited local access to Australian-based online providers by formally illegalizing the contact. However, Parliament did not restrict Aussie access to licensed overseas online gambling platforms and permitted domestically based online operators to continue operating under the clause they would only serve select foreign countries outside of Australia. In addition, Australian-based online operators could only provide online sports betting services to Aussies and nothing more.
Interactive Gambling Amendment Bill 2016
For at least one decade, the IGA remained stable until 2016 when Parliament Amended IGA to have tighter restrictions on online gambling. The Interactive Gambling Amendment Bill of 2016 illegalized all forms of online gambling regardless of previous licensing with an offshore host or regulated by an overseas organization. Under the new IGA, all online operators were required to obtain dual licenses, one from overseas and one from Australia's licensing regulators. The amendment also prohibited sports gambling advertisements from airing during major local sports events and removed in-play live betting options from Aussie sportsbooks.
Regional Laws
Australia's regional laws allow states, territories, and provinces to devise local regulations concerning the licensing, taxation, fees, and approved number of casinos and gaming machines in their region. However, regional laws may not challenge Federal gambling laws, for example, the passing of online gambling at the regional level despite Federal prohibition. Territorial legal codes have small differences between one another but are important for gamblers in each region to understand. Australia is divided into eight distinct territories, each with their own regional gambling laws - Australia Capital Territory, New South Wales, Northern Territory, Queensland, South Australia, Tasmania, Victoria, and Western Australia.
Regulatory Agencies
Australian Federal regulators enforce widespread regulation throughout the country at the highest level while individual state departments implement and enforce local regulations. At the Federal level, three regulators control gambling throughout the country. The Australian Communications and Media Authority regulates, oversees, and monitors remote gambling whether, via telephone or online, the Australian Transaction Reports and Analysis Centre screens operations and activities for suspected money laundering, and the Australian Federal Police enforces rules regarding financial gaming legislation and interactive gambling.
How Do These Laws Affect Online Gambling in Australia?
Amendments to the Interactive Gambling Act in 2016 have reduced the number of accepted and available overseas online platforms from the local market. Before the passing of the 2016 amendment, Aussie's could freely gamble on offshore online platforms and before the passing of the IGA in 2001; locals had no restrictions on their gambling offers at all. Now online operators must obtain an Australian gaming license before they may legally return to the Aussie gambling community and serve the local market once again.  The Australian online casinos in this guide are all operating legally within the industry and possess legitimate licensing and regulatory oversight.