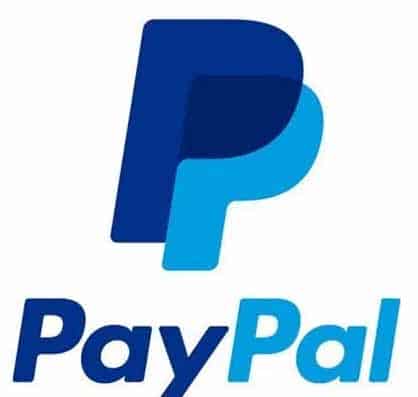 Despite so many online gamblers using PayPal in their day-to-day lives, there are no online casinos that take PayPal directly. And unfortunately, that's unlikely to change any time soon, as Paypal and online gambling just don't mix. However, PayPal gambling is actually possible because many sites are starting to offer casino voucher deposits that allow members to privately buy and sell account balances among on another, and the Bovada MatchPay service also supports PayPal.
Today, there are only a few legitimate online casinos accepting PayPal via the MatchPay or voucher methods, but the trend is taking off, and the PayPal casino list should grow by leaps and bounds in the future. As of 2023, Bovada, Cafe Casino, and Slots LV support the PayPal-voucher banking option, while Bovada also supports MatchPay. To learn how to use PayPal to top off your bankroll and get same-day casino payouts, our brief guide pays, pal!
2023 Best Online Casinos For PayPal Deposits And Withdrawals
While there are just a few legit 2023 betting sites that accept PayPal, each happens to be a top-rated brand in the industry. Bovada started the voucher trend, with other sites recently launching the voucher banking option (aka player transfers). Since then, players all across the USA have been taking advantage of everything PayPal gambling has to offer.
Note: MatchPay is exclusive to Bovada, Cafe Casino, and Slots LV as of 2023.
The following operators are legitimate, trusted, and have been leaders in the online casino space for years. And with PayPal support, they're also the fastest-paying online casinos, so you can't go wrong with any – or all! – of them.
Top-Rated Online Casino With PayPal Banking Options
Bovada

Best Online PayPal Casino

2023
Of all the online casinos that accept PayPal in the US, Bovada LV is the best-rated and most respected site. Founded in 2011, Bovada is currently operating legally from Costa Rica, one of the most established international gambling jurisdictions in the world.
Because Bovada is America's best online casino, PayPal deposits have been on their radar for years. To facilitate PayPal betting, the site introduced the Bovada Voucher and Bovada Player Transfer options, giving members the ability to use the popular P2P service to make deposits and withdrawals. They also launched Bovada MatchPay, which makes PayPal transfers even easier. There are a few extra steps involved compared to typical casino banking methods, but the process is easy, secure, and straightforward.
If you're at least 18 years old and have a PayPal account, you can quickly get your Bovada bankroll topped off and immediately enjoy access to hundreds of online slots, RNG table games, live dealer casino games, sports betting, online poker tournaments, horse racing betting, and more!
Are Online PayPal Gambling Sites Legal?
Yes! In the United States, it is perfectly legal to participate in real-money online gambling action as long as the vendors you choose are located outside of US borders. Legitimate offshore casinos that accept PayPal have been taking American players for years, and there are no federal gambling laws that stand between you and your favorite real-money online casino games. Not even the pesky UIGEA banking regulation can stop you!
Note: The state of Washington has banned all forms of online betting, but these laws are not historically enforced. However, even though the best new PayPal casino sites accept members from all states, we insist that you abide by all local gaming restrictions.
What Is PayPal?
PayPal is a person-to-person – or P2P – instant pay service that was founded 1998 as Confinity and had its IPO in 2002. The popular auction platform eBay purchased PayPal in 2002, and it's since become the de facto P2P app for private money transfers and retail online purchases. With over 360 million active users, it's no surprise that PayPal betting sites are so sought after!
That said, online casinos that accept PayPal are few and far between, and they each must utilize private sales via vouchers and player transfers due to PayPal's strict "no-gambling" stance. Bovada MatchPay is also an option, but it's only available at Bovada itself.
Of course, this only affects casino operators, not players, as individuals are free to buy and sell casino vouchers and player transfers using the PayPal service (or its subsidiary Venmo service, as Venmo casino gambling works identically at the same sites listed here).
Online Casino PayPal Banking Options
For online betting, PayPal banking options are only available when using the gambling voucher or player transfer banking methods at select legitimate casino sites. Similarly, online casino PayPal withdrawals must be claimed via these same avenues. The gambling voucher process is explained in greater detail in the sections below.
You can also take advantage of Bovada MatchPay deposits if you're a member at the site, though no other operators currently support the MatchPay service.
Note: While you could theoretically fund your gaming account with PayPal credit, online casino sites experience high UIGEA rejection rates with PayPal-linked cards. It is only recommended that you use the PayPal service's P2P option for gambling deposits and withdrawals.
Legitimate Online PayPal Casino Deposits
To make deposits at an online real-money casino, PayPal can be used as long as the site you choose supports the casino voucher banking method, which you can learn all about at the link in the section above. (Ditto for MatchPay implementation.)
Briefly, the PayPal-voucher/transfer deposit method is as follows:
Follow any link here to a PayPal-friendly online casino and sign up using your actual, verifiable credentials. These trusted gambling sites use state-of-the-art SSL and TLS encryption, and your private information is never shared or sold.
Skip the deposit option and complete your site registration.
Head over to your site's community forum and look for a voucher code or player transfer code for sale.
Contact the site member selling the voucher/transfer you'd like to buy, and inform them that PayPal is your preferred option.
Use your PayPal app to send the voucher/transfer seller your money. Once the transaction clears, your seller will send you the code via email, text, messaging app, etc.
Return to your casino's Cashier page, select the Voucher/Player Transfer deposit option, and insert the code. The funds will be deposited into your account immediately, and you'll be ready to play hundreds of the best online casino games!
While you can buy casino voucher codes at off-site gambling forums, it's recommended that you only purchase vouchers using PayPal from your official online casino's community portal. This is the most secure way to fund your account at online casinos that use PayPal.
MatchPay deposits work much the same way, with the exception that no voucher codes are required, and no personal ads need to be posted.
With MatchPay, the MatchPay service automatically pairs PayPal users to facilitate online gambling transactions, but this is only available at Bovada, Cafe Casino, and Slots LV as of 2023.
Legitimate Online PayPal Casino Payouts
When it's time to collect your winnings, you can often get an instant PayPal withdrawal. Casino sites that support the voucher/player transfer banking option have large communities with active members who respond quickly and efficiently, as PayPal casino payouts are compelling options for these sellers.
Before Bovada and other reputable gambling sites launched their voucher/transfer platforms and offered MatchPay support, the only way to claim same-day payouts was to use legitimate Bitcoin casino options or other crypto gambling methods (i.e. Bitcoin Cash, Litecoin, Stellar, Ripple, Ethereum, etc.).
Just follow these simple steps to sell your online gambling voucher code via PayPal:
Visit your site Cashier and request a Voucher or Player Transfer withdrawal.
Your site will send you the voucher code in the amount requested to your email address on file. Note that you can only receive voucher codes for eligible account balances where all bonus rollover requirements have been met.
Once you receive your code, post an ad on your site's community page. Be sure to include the dollar amount of the voucher and the fact that you prefer to be paid via PayPal.
Once a voucher buyer contacts you, confirm the terms of the sale. You will receive the full amount in a typical private PayPal transaction.
After the transaction clears, release your voucher or player transfer code to your buyer ASAP. It is crucial that you send your buyer their voucher code within a reasonable amount of time, as your online casino account can be suspended if you don't fulfill your end of the bargain.
You won't always be able to get same-day payouts using PayPal, as potential voucher code buyers may not contact you immediately upon posting your ad. However, most of the time, you'll be able to be paid out quickly and efficiently.
Note: If you use the MatchPay service instead of the voucher system, your chances of receiving same-day payouts will increase significantly. 
Bonus Options At Legitimate PayPal Betting Sites
When you fund your account at betting sites with PayPal deposit options, you're entitled to all the standard new member and account reload bonuses on offer.
Online casino bonuses use the deposit-match method, allowing you to boost your bankroll by 100-300%. These typically include the following:
Online Casino Sign-Up Bonus
Online Casino Reload Bonus
Online Casino Weekly Slots Bonus
Online Casino Weekly Table Game Bonus
Online Casino Refer-A-Friend Bonus
Online Casino No-Deposit Bonus
All online casino promos come with rollover requirements (aka playthrough requirements), but at the most legitimate casinos online, these are fair and easy to meet. We recommend taking all optional bonuses when gambling for real money over the Internet.
Note: To get the most current online PayPal gambling bonuses for May 2023, please check out your site's "Promotions" page.
PayPal Casino Limits And Fees
The best online casino PayPal deposit and withdrawal options come with friendly limits and zero added fees assessed by your chosen betting site. Additionally, PayPal charges no fees for private person-to-person transfers.
This makes PayPal betting banking perfect for players of all ages and financial means, and these are the limits you can expect when moving money into and out of your account using the PayPal-voucher method or PayPal-MatchPay option:
PayPal Casino Minimum Deposit - $10, no fees
PayPal Casino Maximum Deposit - $15,000, no fees
PayPal Casino Minimum Withdrawal - $10, no fees
PayPal Casino Maximum Withdrawal - $15,000, no fees
PayPal Casino Mobile Apps
The best PayPal casinos listed here are all designed to be 100% accessible via mobile, regardless of the platform you use. Whether you want to experience an iPhone casino or Android casino, PayPal-friendly betting sites work seamlessly across both.
There are no apps to download, either, as the most legitimate online casinos have invested heavily in providing their members with HTML-based online casino games and other betting markets.
These casinos are the best betting apps that accept PayPal (or, more accurately, the best betting web apps that accept PayPal), and they're available 24/7/365. Best of all, there's no geo-fencing whatsoever, so you can play for real money from anywhere in the USA and beyond!
Legitimate PayPal Casinos FAQs
Yes, legitimate online casinos do accept PayPal, but only in a roundabout way via betting vouchers, account-to-account player transfers, and/or MatchPay.
Further, only a few operators currently employ the gambling voucher or transfer methods that facilitate this, while MatchPay is limited to Bovada members.
That said, we expect the majority of top-rated online casinos to accept voucher and transfer banking options going forward.   
Yes, it is!
However, you must be sure to use PayPal with vouchers and player transfers only at the sites that currently support them.
In addition, you should always buy and sell voucher codes using your legitimate casino site's official member community page or forum.
If you buy or sell vouchers/transfers off-site, your online casino vendor cannot as easily mediate and guarantee the sale.
If you're a member at Bovada, we recommend using MatchPay instead of vouchers, as the process is largely the same but is more convenient, faster, and more secure. 
As long as you use PayPal only for official voucher sales or MatchPay transfers at trusted online casinos, you won't have to worry about any PayPal scams.
That said, keep in mind that many sites don't support vouchers or MatchPay, and unscrupulous individuals may attempt to sell new gamblers non-existent, fraudulent, or expired voucher codes.
(Of course, this would not be the fault of PayPal or your betting operator.)
To avoid such a headache, please always buy and sell vouchers and player transfers only through official site channels, or use MatchPay (Bovada only). 
When it comes to what betting sites accept PayPal, there aren't too many to choose from just yet.
Currently, only Bovada Casino, Slots LV, and Café Casino allow for PayPal deposits and withdrawals.
And, as stated, they can only do this indirectly via the casino voucher or player transfer banking method. And, in the case of Bovada, the MatchPay platform is also employed.
Right now, Bovada, Slots LV, and Café Casino are the only trusted online gambling sites that use vouchers, player transfers, and/or MatchPay for mobile bet funding.
PayPal is an international person-to-person (P2P) instant-pay service, but it cannot be used to fund your account at overseas online casinos because of various banking regulations.
In America, the regulation in question is the UIGEA, which is a mechanism by which online gambling transactions to or from non-US-licensed casinos and gambling sites are blocked automatically.
This is the same reason why credit card deposits are sometimes declined when trying to top off your online casino bankroll.
Of course, these kinds of restrictions are targeted at banks, not individual players, and you are breaking no laws when using PayPal for online betting through the private voucher/transfer method or via MatchPay.
Betting vouchers work by allowing online casino players to buy and sell portions of their account balances among one another.
Because PayPal and other P2P apps have no restrictions on private money transfers between individuals, online casinos can allow players to withdraw their funds in special voucher codes, which they can then sell – using PayPal – to other site members.
Those members then deposit these purchased codes into their betting accounts, and the funds are moved by the site from the seller's account to the buyer's account.
It's all 100% safe, secure, and legal.
At the legit online casinos that support vouchers (or MatchPay), you can usually use all the following P2P apps and eWallet platforms to privately send funds to fellow site members in exchange for their advertised account balances:
PayPal
Venmo
Cash App
Zelle
Apple Pay
Google Pay
Samsung Pay
That's a very good question, and we don't have a good answer. Frankly, we think it's just an oversight.
Because vouchers and player transfers are exactly the same thing and work the same way, it seems odd that vouchers have a $3000 transfer limit for deposits and withdrawals while player transfers have a $15,000 limit for the same.
But that's the way it is for now, so our advice is simple:
If you want to deposit or withdraw $3000 or less, go with the voucher. If you want to deposit or withdraw more than that, the transfer is the answer!
PayPal does let customers cancel payments or reverse payments, but it's a time-consuming and annoying process for everyone involved.
If you absolutely have to, you can, but this is only recommended in case your voucher seller or transfer seller has absconded with your funds. Otherwise, you should consider PayPal private transactions to be like cash trades.
This is why it's imperative to trust your seller and only buy voucher codes from ads on official site channels or use MatchPay at Bovada LV. 
While this is a possibility, we've never heard of it happening before. That said, the contingency is something all responsible gamblers should be aware of.
The first safeguard, of course, is to only purchase voucher codes or player transfer codes from fellow site members who have posted their ads to official site forums or member communities.
As long as you do that, your site will be able to mediate the sale and can easily step in to make you whole should the seller neglect to send you your voucher code.
Sellers who fail to honor their voucher/transfer sale agreements risk account suspension, account termination, and account balance forfeiture.
To avoid the risk of this altogether, if you're a member at Bovada, it is highly recommended that you use MatchPay instead of vouchers or player transfers.  
Disclaimer: PayPal is unaffiliated with this site or any online casino venue. All information presented here is informational only. Please gamble online using PayPal at your sole discretion.