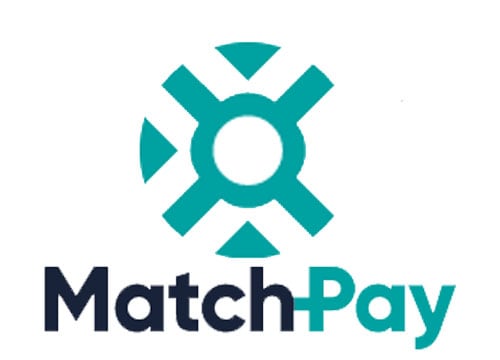 The new and improved MatchPay service has burst onto the legitimate online casino scene as the most convenient way for US players and many international gamblers to make their gambling deposits using popular person-to-person (P2P) transfers using PayPal, Venmo, Cash App, and Zelle Pay.
While we expect a slew of legitimate MatchPay casinos to pop up in the near-term future, the platform is currently being used exclusively by Bovada, the most trusted online casino for US gamblers. However, it's only a matter of time before other sites such as Ignition Casino, Café Casino, and Slots LV accept the service, and even more brands are sure to follow suit in the near future.
To learn more about how to use MatchPay to fund your Bovada account and other legit casino accounts (when accepted), our brief guide explains the service and shows you all of your new online casino banking options.
What Is MatchPay?
MatchPay is a person-to-person financial transfer service (or peer-to-peer payment platform) that allows account holders with online merchants to sell their balances to other account holders with the same merchants using a variety of instant-pay services like PayPal, Venmo, Cash App, and Zelle.
At overseas gambling sites that legally accept US players, these operators use MatchPay to secure their standing as the fastest-paying online casinos for both deposits and withdrawals.
Instead of having to go through lengthy buy-in processes to buy Bitcoin and altcoins with which to deposit – and instead of using credit and debit cards that can be declined or delayed due to the American UIGEA banking law and similar international laws – users can now solicit fellow gamblers willing to sell all or part of their account balances.
Then, by simply using the MatchPay service to initiate a transfer, players can have those funds released directly into their online casino accounts. Rather than waiting days or weeks on your casino deposit to clear, MatchPay lets you pull the digital slots and hit the digital felts in just a few minutes!
Best Online Casino For MatchPay Deposits
Bovada – The First Legitimate

MatchPay Casino
With Bovada MatchPay, the best just got better. Now, in addition to making Bitcoin and Bitcoin Cash deposits, you can actually use PayPal, Venmo, Cash App, or Zelle Pay to buy another Bovada member's account balance (or portion thereof) to fund your own Bovada casino account.
This is a true gamechanger, as you can now use these popular person-to-person services that Bovada cannot accept directly to make fast deposits so you can gamble immediately at America's favorite online casino.
Bovada operates legally in Costa Rica, Central America, a well-known online gaming jurisdiction. As legitimate online casinos go, Bovada is second to none, and the company has never missed a single payout for its millions of US customers. When you use MatchPay at Bovada, you can fund your account with services you already use – no fuss, no muss. If you've been waiting for PayPal gambling, Venmo gambling, and the like, the time is now!
Pros:
Legitimate casino operating in a respected gaming jurisdiction
Top quality, most trusted online gambling brand
Bovada MatchPay lets you finally deposit with PayPal, Venmo, Cash App, and Zelle
MatchPay is even easier than using Bovada Vouchers
Bitcoin, Bitcoin Cash, Litecoin, Ethereum accepted
Best bonus rollovers in the industry
250+ casino games including live dealer play
Full sportsbook, poker room, racebook
Open to US players 18 and up
Cons:
USA only – No other countries accepted
Restricted States: DE, MD, NJ, NV, NY
No enhanced casino bonus for MatchPay deposits

Bonus: Up To $3000 Casino Welcome Bonus For MatchPay Deposits
Most Trusted Online Casinos That Accept MatchPay
Currently, there are no other casinos except Bovada that accept the brand-new MatchPay service, but that's to be expected. Bovada is always the first out of the gate with new banking technology to help new and existing members make the best, fastest deposits.
However, we expect that most other legitimate online casinos will adopt MatchPay in the near future, as it is the only offshore gambling banking option (aside from online casino vouchers at Bovada and select competing sites) that allows users to fund their accounts with PayPal, Venmo, and Cash App. Further, MatchPay offers a Zelle deposit option that is faster and easier than the current Zelle-to-Bitcoin deposit method employed by many of the top operators (which we also recommend).
How MatchPay Works For Funding Your Legitimate Online Casino Account
MatchPay Traders can accept several P2P payment systems that legitimate online casino operating overseas cannot directly accept through their websites, which means that buyers now have the following expansive options to fund their casino betting accounts:
PayPal online casino deposits
Venmo online casino deposits
Cash App online casino deposits
Zelle online casino deposits
This is a true watershed moment, akin to when the first legit gambling sites started to accept Bitcoin casino deposits many years ago, giving US and international customers a way to discreetly and safely fund their accounts. With MatchPay, the same can now be achieved with the most popular person-to-person platforms in the US and abroad.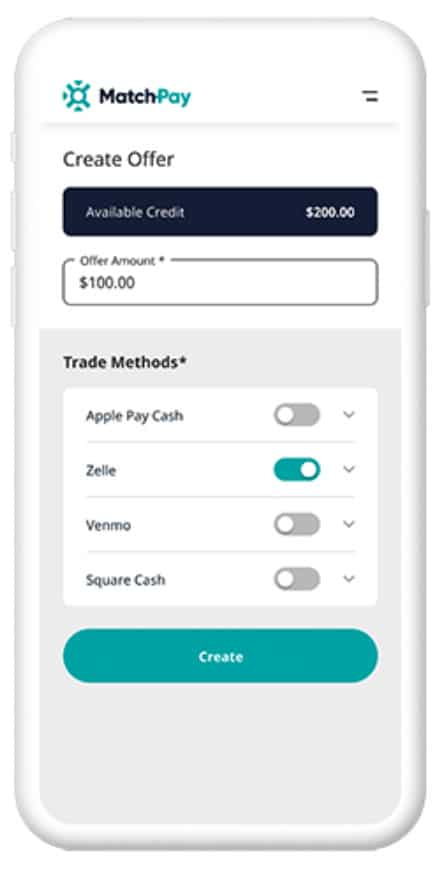 The MatchPay Deposit Process
When you want to deposit using MatchPay, you must first become a member at Bovada (or another site that supports the system, once launched).
To do so, simply visit any link from this page to Bovada and sign up through their simple membership portal using your real information (this must be verifiable for safe, secure payouts).
During the sign-up process, when you're given the option to deposit funds, select MatchPay from the menu. Alternatively, if you're already a member, you can visit the Cashier page of your casino site and choose MatchPay from there. After that, here's how the safe, secure deposit method works:
You will be redirected to MatchPay's safe online portal, where you will need to make a MatchPay account.
Enter your name, telephone number, email address, and desired username and password.
Verify your phone number and email per the MatchPay instructions provided.
Once verified, enter the amount of money you wish to deposit using MatchPay.
MatchPay will then automatically find a fellow member of your casino site who wishes to sell some of their account balance. You will communicate with the seller and choose PayPal, Venmo, Cash App, or Zelle to pay them for their balance.
Once the transaction is completed, their balance will be added to your online gambling bankroll, and you're ready to play!
The MatchPay Payout Process
You don't have to deposit using MatchPay to withdraw using MatchPay, but you will have to sign up with the service in order to claim payouts (if you haven't already).
You can do this from the Bovada MatchPay menu at the site's cashier page. Once you're a MatchPay Trader, claiming online casino withdrawals is simple:
Navigate to the Bovada Cashier and select the MatchPay payout option.
Sign into your MatchPay account and enter in the amount of your account balance you'd like to withdraw.
MatchPay now searches for fellow site members looking to buy account balances, and you'll automatically be paired with a buyer.
You'll receive a notification in your P2P app of choice once MatchPay finds a buyer, as the transfer is initiated immediately.
Funds will be available within your P2P app instantly.
MatchPay does not guarantee same-day payouts, but you'll get them about 90% of the time on average. Remember, the service is dependent on other site members looking to use MatchPay to fund their accounts, and demand will ebb and flow depending on the time of day, the day of the week, etc.
MatchPay For US Players
MatchPay is currently a Bovada-only product, which means it's only useful for US players. USA players making MatchPay casino deposits can enjoy the benefits of using their established P2P money-transfer apps that are otherwise disallowed at overseas gambling sites, which should have the effect of allowing many more potential members to join the party.
MatchPay For International Players
For international players, no legitimate online casino currently accepts MatchPay deposits (as Bovada is US-only). However, many online casinos for international players already accept some of the payment platforms MatchPay provides to Americans, which somewhat obviates the need for such a platform in those markets.
Note: International casino gamblers cannot use the Zelle P2P service, which is US-only. Similarly, Venmo is also a US-only product, and Cash App works only in the US and the UK. Global players have access to PayPal and many other regional P2P apps and transfer platforms.
MatchPay Pros And Cons
MatchPay is obviously an important and highly anticipated new development for the most legitimate online casino sites. That said, while the benefits far outweigh the detriments for the service, there are some points against it for certain players.
The pros and cons of MatchPay money transfers are listed below, as they pertain to online gambling at trusted casino sites like Bovada and others.
MatchPay
Benefits
Allows users to make quick, two-step casino deposits using the most popular payment apps in the world
Supports PayPal betting deposits
Supports Venmo betting deposits (USA only)
Supports Cash App betting deposits
Supports Zelle betting deposits (USA only)
Full mobile casino support for iPhone gambling and Android gambling
Free to use – No added casino banking fees
Free membership to become a MatchPay Trader
Allows sellers to get same-day payouts in many cases
Supported by Bovada – Most legitimate online casino
MatchPay
Drawbacks
Currently limited to Bovada only
Must go through a third-party service (MatchPay)
Does not come with enhanced Bitcoin bonuses or crypto bonuses
Same-day payouts not guaranteed if MatchPay does not choose your seller account for the trade