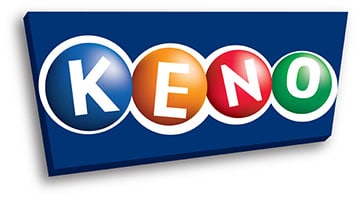 Keno has been a popular lottery-style game for hundreds of years around the world. As a simple pick'em format, players on any level can master the rules in a matter of seconds. Keno is also available in many casinos, online, and through lotteries, making the legal accessibility one of its biggest perks.
To learn more about Keno, legitimate strategies to the game, and the trustworthy playing options, use the following guide.
What is Keno?
According to legend, Keno began in ancient China to help raise funds for the Great Wall. The game is played by choosing 10-15 numbers from a range of 1-80. After the numbers are selected by the player, a draw of 20 or so numbers (depending on the game's host) is conducted by hand bingo-syle or through random number generation.
The more numbers drawn that match the player's chosen numbers, the higher the payout will be.
Is Keno legal?
Not only is Keno legal at online USA casinos, but many states throughout the country even offer their own versions of the game through lotteries. States that currently offer a legitimate Keno lottery game include Connecticut, Delaware, District of Columbia, Georgia, Kansas, Kentucky, Maryland, Massachusetts, Michigan, Missouri, Nebraska, North Carolina, Ohio, Rhode Island, Tennessee, and Washington.
Keno is also available through many legitimate online casinos. Playing Keno online through a reputable site is a great alternative for bettors without a lottery-sponsored version or those who want more options that cannot be provided in their state.
Best Online Keno Casinos For 2023
How to play Keno
Playing Keno comes down to the Two P's: pick and pray.
That's not the full rundown, but it's close.
The game is extremely simple, however. After a player chooses their numbers, usually 10-15 picks from numbers 1-80, the gamemaster or generator selects random numbers from the same range. Each Keno game is unique, but each round picks around 20 numbers.
The more numbers that match, the more money can be won. And that's really about it.
Keno tips, tricks, and strategies
Keno is a highly random game, meaning that using a certain strategy effectively can almost be impossible. Nevertheless, there are a number of strategies that players use to try and boost their winnings.
To extend a Keno bankroll, many players will play the minimum betting requirements. The players are also likely to only play one game at a time, versus playing multiple back to back. With smaller bets and more plays, there's a greater chance of playing until a huge payout.
This strategy stems from superstitious and not mathematical proof. Some players stick to the same numbers every time they play. In such a random game, a bit of stability can be enough to keep trying.
Playing the same quadrant
Some Keno players insist on splitting the Keno board in fourths and playing in a single quadrant. This strategy is similar to playing the same numbers but reduced to a set of 20 numbers instead of the full 80.
Odds of winning at Keno
The odds of winning at Keno are some of the worst in the industry. Like its cousin, the lottery, earning a large payout in Keno is nearly impossible.
For example, the odds of a player hitting all ten their selections are 1 in 8,911,711.18 chances. A bear attack has much better odds at 1 in 2,100,000 and getting struck by lightning is 1 in 700,000.
Despite this, Keno remains popular through its simplicity and the chance to hit major jackpots in the millions.
Mobile Keno games - is it safe to play Keno from my smartphone or tablet?
One of the best features from our list of recommended casino sites is their mobile optimization. Regardless of which game is chosen, including Keno, these casinos offer a seamless transition from desktops to phones and tablets.
This means that online Keno can be played anywhere, as long as the device is connected to the internet and access to reputable online casinos is possible.  That being said, there are some things you can do to keep yourself from being vulnerable to predators when playing mobile keno games:
Keep your phone's software up to date - this ensures there are no operating system security vulnerabilities that put you at risk.
Do not use public wi-fi to access your online casino account - these networks are not secure and are vulnerable to hackers.
Is playing Keno safe?
Playing Keno through any of our licensed, trusted casino sites or through a state-sponsored entity is guaranteed to be safe. Through the use of certified random number generators, online casinos are just as legitimate as governmental lottery versions. As long as you are visiting one of the brands you see listed on this page, we can vouch for the legitimacy of these destinations.
If you take a chance by visiting an online casino that has not been vetted by industry professionals, it can actually be quite risky.  There are numerous predatory and questionable online casinos out there that seek to take advantage of unsuspecting players who are simply not aware of how to determine when a site is genuinely secure and reputable.  We take that guesswork out of the equation for you.