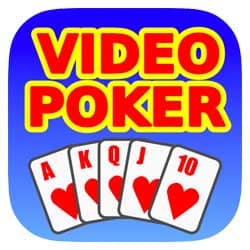 While online poker is a massive multibillion-dollar industry, online video poker has always been something of a "smaller" niche in the gambling world. Still, the game is a classic staple, and no casino worth its slots would omit video poker from its gaming menu. As a result, you can expect all the top-rated casino sites featured here to be legit online video poker sites, too.
That said, all legit online casino sites are going to have different video poker games made by different casino software developers. So even though each site's games are 100% fair and trustworthy, you'll want to browse multiple venues to find the titles you're most interested in. Our brief guide shows you how and where to play online video poker, and it shares some basic video poker tips. As for how to win at video poker, well, that's in your hands.
Most Trusted

Online Video Poker Website
Bovada Casino is our first choice when it comes to online video poker. The poker sims at Bovada LV are all developed by Realtime Gaming (RTG), which has been dealing the cards for the online gambling market since the late 1990s.
There's no brand more trusted than RTG, especially when it comes to electronic gambling software. Good online video poker is about playing the odds, and RTG's poker odds are identical to what you'd get with a real deck in a real in-person casino. Of course, all the sites we recommend fit that bill, and they each have multiple different flavors of electronic poker to choose from.
Bovada is our most recommended site largely because it's not just legit but is also a bona fide all-in-one online gambling destination. Bovada has an electronic casino with over 200 games, a full live-dealer casino, an international sportsbook, a live online poker room, and a daily horse betting racebook.
New players who join Bovada today can take advantage of the site's $3000 standard casino bonus or boosted $3750 crypto casino bonus!
Best Real-Money Online Video Poker Sites 2023
Is Online Video Poker Legit?
As long as you play at legit online casinos like those reviewed here, video poker is 100% legitimate. All the software used is regularly audited and certified for fair iGaming compliance.
Additionally, all the RNG (random number generation) video poker software featured at the top sites is developed and deployed by the top electronic casino game makers in the business. Brands like Realtime Gaming, Microgaming, Betsoft, etc. have been refining their video poker games for years, and it shows.
Adding to the game's legitimacy is the fact that online video poker is unique in the world of electronic casino games for two reasons. One, it's a perfect online casino game. There is virtually no difference between playing video poker in-person or online. Two, video poker gives the player considerable control over each game's outcome. Other casino games are mostly chance-based, but video poker requires real strategy.
In this regard, the most similar online casino game to video poker is actually online blackjack. But while there are only a few basic varieties of online blackjack, there are dozens of different kinds of video poker. We know which game we prefer. (Well, most of the time, anyway.)
Online Video Poker Software
All legit online casinos employ state-of-the-art online casino software. Most sites use Realtime Gaming (RTG) for their core game menus, though an assortment of other developers – such as Rival Powered, Microgaming, Betsoft, Playtech, etc. – is also supported.
And while each of these developers makes different video poker games, each brand also has one thing in common: Those video poker games are 100% legit, tried, and true.
All reputable online casinos regularly audit their game libraries, ensuring that all titles are 100% random and give players a fair chance to win. In addition, win rates and payout rates are in line with those at established retail casinos, giving players even more peace of mind.
Online Video Poker Games
After online slots, video poker is the most varied gambling game on the menu at any legit online casino. After all, there are only so many different game types for online 21, online roulette, online craps, etc.
But with video poker, there are so many potential wild cards, bonuses, and bet types that you get dozens of different games. These include but are not limited to:
5 Card Draw
5 Card Poker
Aces & Faces
Aces And Eights
All American Poker
Bonus Poker
Caribbean Hold 'Em
Caribbean Stud Poker
Deuces Wild
Double Bonus Poker
Double Joker
Jacks Or Better
Joker Poker
Jokers Wild
Loose Deuces
Oasis Poker
Pai Gow Poker*
Razzle Dazzle
Ride 'Em Poker
Sevens Wild
Tens Or Better
Three-Card Poker
Tri-Card Poker
Triple Edge Poker
+ More
Because online video poker has so many different variations, there is no universal video poker strategy. High cards might be worth 10 points in one game and zero points in another. One-eyed jacks are winners in some titles and losers in other titles. Sevens are a dagger in your hand here and a dagger in your back there.
As such, it's important to study the video poker rules for each specific game you're playing. Additionally, at those sites that allow it, we recommend practicing by playing online video poker for free (see below).

Mobile Video Poker Apps – iPhone Poker, iPad Poker, Android Poker
In the early days, online video poker was limited to the desktop/laptop gaming spaces. But that's no longer true. Today, the vast majority of video poker games are played via mobile video poker apps. Or, rather, mobile poker web apps.
Because legit online casinos operate outside of US jurisdiction, they can't offer their wares through official app storefronts*. That means that if you go looking for a real-money video poker app for iPhone, iPad, or Android, you won't find one (unless you live in one of the few US states with legal domestic online casino gambling).
But since all the best offshore operators are accessible via web browser – and since all modern mobile devices have modern web browsers built in – you don't actually need any downloadable apps. You can play video poker online right through your mobile web browser.
Even better, there's never any geofencing, so you can play from anywhere inside the US, anytime. For iPhone poker apps, iPad poker apps, and Android poker apps, web apps are your ace in the hole!
*This is not due to any US online casino laws. Remember, these sites and services are 100% legit and 100% legal to use. The lack of offshore casino apps in the App Store and Google Play storefronts is solely the result of Apple and Google corporate policies.
Free Online Video Poker – Video Poker Trainer Software Built In!
Free online video poker is a great option that's available at most sites. Yes, the whole point of gambling online at a legit casino site is to bet and win real money. We get that. But video poker – as a class of casino game – has a big learning curve. Actually, it has several big learning curves.
That's because each title is completely unique, with different rules, wild cards, and more. Just because you know how to play Deuces Wild doesn't mean you'll know how to play Loose Deuces. Five Card Poker isn't just "two more" than 3 Card Poker. Heck, even the same games have different rules when you go from one site to another. Jacks Or Better at Cafe Casino will be different from Jacks Or Better at CasinoMax, for example.
Because each game is so different – and because you probably aren't going to be familiar with all the rules for each variant right off the hop – the ability to play video poker free is a major boon. Most sites we recommend allow members to enjoy free video poker games.
(The only exception is actually Bovada Casino, which – to be frank – is the weirdest wild card in the entire video poker market. Bovada has literally everything else, so why not free games, too? We will never understand that...)
In-Person Video Poker Vs. Online Video Poker
One of the interesting things about video poker is that the game is fundamentally identical no matter where you play. There are a few minor differences between playing video poker in a brick-and-mortar casino vs. playing it online, but these don't have anything to do with the games themselves or your chances to win.
Outside of a few situational and technical differences, video poker offers the same gambling experience whether you're playing at a casino on the Vegas Strip or at a legit online casino based outside the USA.
The video poker odds are the same online as in-person, and the selection of games at any site featured here rivals the selection in any major casino venue.
How To Play Video Poker At The Casino
At a retail casino venue, you'll generally find video poker machines mixed in among the other electronic casino games on the main gaming floor. Some venues will refer to these amusements as "video poker slots," which is a nod to the "arcade cabinet" form factor video poker games share with the one-armed bandit. (There are also poker themed slot machines, but these are basic slots and not electronic card games.)
To play video poker in a physical casino, there's not much to it: You sit at the machine, slide your casino card or balance ticket into the appropriate slot, ante up, and go. In a retail casino, the only real difference you'll experience is that you'll get game-side drink service while you play, and some venues might give you comped drinks here and there.
There's also the social aspect to consider, the restaurants on tap, various shows, etc. The "nightlife" element to in-person gambling cannot be replicated by the online space, even with the various live casino games offered by the sites featured here.
So basically, the difference between playing video poker in a casino vs. playing at home is the simple fact that when you're playing in a casino, you're playing in a casino.
How To Play Video Poker Online
Playing video poker on the Internet is simple. All you need is an account at one of the legit online casinos we recommend. And if you want to win real money, you'll need some cash (or Bitcoin, Litecoin, Ethereum, etc.) in your account. That's basically it.
In-person video poker is played on a screen, just like the online game. If you're playing on desktop, the display will be just as big – if not bigger – than it would be in a proper casino. Of course, 80% or more of online gamblers play on their mobile devices, so most online video poker will be of the small(er) screen variety. Still, the gameplay is the same, with all the animations and hi-fi sounds you expect.
The thing that makes online video poker undeniably superior to the retail experience is the former's convenience and portability. Because you can play online electronic poker sims from anywhere using your phone or tablet or computer, the game itself is that much more casual.
Sure, you can play marathon hours-long sessions whenever you want, but you can also play a few rounds while you wait in line at the drive-through or the pharmacy or the check-out aisle. Like the old saying goes, "The best video poker casino is the one you have with you."