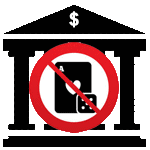 This US online gambling law is one of the most debated laws in the United States – not only for its language and intention but also how it became law. Unlike most US gambling laws, the Unlawful Internet Gambling Enforcement Act did not receive a true congressional hearing.
Originally, the UIGEA started in the U.S. House as the Internet Gambling Prohibition and Gambling Enforcement Act which changed several key definitions regarding bets and communication facilities made by the Federal Wire Act.
These changes would expand the jurisdiction of prohibited communication facilities to include mobiles and change bets to "any game of chance" which would subsequently include lotteries. The Internet Gambling bill halted in the U.S. Senate and died before being revived under another name (UIGEA) and inserted within a must-pass security legislation.
Does The UIGEA Make Offshore Online Casino Gambling Illegal In The US?
No, it does not.  The UIGEA places regulatory oversight on gambling-related transactions processed through American credit card companies and banks.  It does not prohibit US residents from enjoying online gambling through offshore destinations that are legally licensed and regulated.  The directives in the law are directed towards payment processors and not players. In addition, its reach does not extend beyond US borders nor does it affect the gambling laws of non-US territories, nations or regions.
Historical Issue With UIGEA
The major problem Americans had with the UIGEA, as mentioned above, stemmed from how it was passed. The UIGEA was tacked onto an unrelated bill concerning port security known as the SAFE Port Act. The SAFE Port Act was designed to regulate security against threats of terrorism and was destined to pass Congress and obtain Presidential approval.
The UIGEA slipped under Title VII of the SAFE Port Act and was passed with the Act in October of 2006. The effect of the UIGEA sustained major impact to the USA gaming market and global operators and brands.
What Does the UIGEA Do?
The Unlawful Internet Gambling Enforcement Act places regulatory oversight on how online gambling transactions are processed. These regulations prevent restricted transactions, i.e. transactions to gambling businesses, from being processed by US financial institutions and banks.
Prevention measures include policies and procedures to block and/or prohibit transactions to online gambling entities known as Regulation GG. For banks and financial institutions to abide by UIGEA practices, preventive policies for their ACH, card, check, and wire systems, as well as, money transferring businesses must be designed.
The term transactions should be better clarified as only online gambling deposits are regulated by this Act - withdrawals were not specifically included in UIGEA. Keep in mind that players are not punished nor prosecuted under UIGEA for initiating transactions at all.
Rather, banks, site operators, and payment processors are the main targets of this US gambling law. That is because the UIGEA does not make online casino gambling illegal at any online casinos as there's nothing written in the Unlawful Internet Gambling Enforcement Act that states such a prohibition.
What Happened Once UIGEA Became Law?
At the time, numerous online operators freely served American players without any restrictions. However, once UIGEA passed under the SAFE Port Act many gambling operators pulled from the U.S. market completely in fear of prosecution by the Federal Government of the USA. This became a major issue for those brands whose major customer base consisted of USA players, without them these brands closed operations shortly after.
A few attempted to survive in a post-UIGEA U.S. gaming market but were soon run out of the market after facing increasing problems with payment processors and depositing issues due to the new law. This became a time were second-rate brands chose to manipulate player's pockets, vulnerability, and trust by running away with their deposits. A few trusted offshore operators weathered the storm and remained active in the US gambling market by modifying their banking processes to optimize work arounds to the restrictions.
However, times have changed, and this law eventually provided the secure virtual marketplace gamblers were seeking. They did this by forcing online casinos to raise their standards concerning gambling transactions. Now legitimate USA casinos provide several banking suites online that are safer and more efficient. Online casinos that offer a variety of options have greatly increased interest from U.S.A. based players.
Domestic Complications From UIGEA
The Unlawful Internet Gambling Enforcement Act complicates domestic state-regulated online casino and online poker gambling markets such as those within New Jersey, Delaware, Pennsylvania, and Nevada by restricting financial transactions transmitted to gambling institutions. This has caused a number of online payment processing complications, which has made state-regulated online platforms seek alternative payment processors.
How Do Legitimate Online Casinos Get Around This?
Domestic US casinos will often employ digital wallets and accept direct bank wires, ACH payments, and bank transfers – however, they do run a risk of violating the UIGEA and its' subsequent Regulation GG policy. According to statements made by those who work at these casinos, the banks have full discretion to reject or process payments.
We have personally attempted to confirm with state banks on how players can transact personal bank funds onto their online casino accounts and were unable to obtain a clear perspective on the issue. According to banks, they are weary to process these payments due to a potential reinterpretation of the law which could come back to harm them legally.
Nonetheless, players rarely like to expose themselves to legal risks, therefore they usually fund their accounts in person at the associated brick and mortar destinations, through digital wallets such as Skrill or NeTeller, with cryptocurrency, or innovative venues such as PayNearMe's found at 7-11s.
Legitimately sanctioned offshore U.S.A. online casinos now utilize multiple high-quality payment processors which operate within legal boundaries, providing the best rate of legal transaction approvals.
Through a simple method, operators will often change the code their transaction statements render on an account to fly under the radar of banks. Alternatives used in the past to circumvent payment processing issues are still used today at domestic and foreign online casinos such as Money Grams, Money orders, and payments via mail check.
What Is Not Included Under the Unlawful Internet Gambling Enforcement Act?
The UIGEA excludes various skill games, daily fantasy sports, intrastate gambling and horse betting, lotteries, and intertribal gambling. However, these excluded gambling forms have come under heavy scrutiny by critics and anti-gambling advocates, a number of whom, have begun a movement to classify daily fantasy sports as gambling, to which should be included under UIGEA. In addition, several people have expressed the opinion that poker should be classified as a game of skill and excluded from the policies and regulations ordered by the UIGEA.
The US Federal Government has yet to confirm or deny this opinion. However, more and more individuals have begun to become involved in the state of the USA gaming market either to expand or recede it. Therefore, the Unlawful Internet Gambling Enforcement Act could change once again through an amendment or much like PASPA be thrown out entirely.