There are some big ideas in store for legalized Georgia casinos.
Currently, however, Georgia is one of the few states that features no form of traditional commercial gambling. It has the Georgia Lottery, but outside of that, there are no casinos, tribal casinos, racetracks, or cardrooms to speak of.
Historically, Georgia has been opposed to legal gambling, driving residents to offshore legitimate casinos accessible over the Internet. However, in the wake of 2018's overturn of PASPA (the Professional and Amateur Sports Protection Act of 1992), nearly 20 states have already legalized local domestic sports betting operations.
More importantly, considering the low margins associated with sports wagering, several of these states have taken the opportunity to either legalize much more profitable homegrown casino gaming endeavors or further expand their lucrative existing casino markets.
In order for Georgia to install legal casino gaming, sports betting, and horseplaying in the state, the issue would have to be passed by both chambers of the state legislature, after which it would move to a statewide voter referendum.
Such a process, at its most efficient, would take at least another year to bear fruit before construction could even start on Georgia's latest proposed casino venue.
And is that proposal ever a doozy!
Unveiled on Wednesday, a rendering of a planned casino resort complex shows just how big some pro-gambling hopefuls are dreaming.
Ed Clark, president of the famed Atlanta Motor Speedway (AMS), has released his spectacular vision for the future of the venue, which you can see in the header above.
The AMS, which hosts a variety of NASCAR league events and drag races, was opened in July 1960, and its 1.54-mile track is considered one of the fastest on the NASCAR circuit. With seating for over 71,000 spectators, the venue remains successful and profitable.
But with the potential for Georgia gambling, Clark and his team are speeding toward a future that's more than just racing.
Should the plan be allowed to go through, the development would offer a hotel, condominiums, timeshares, shopping malls, restaurants, a go-kart track, a concert arena, a theme park, and a waterpark.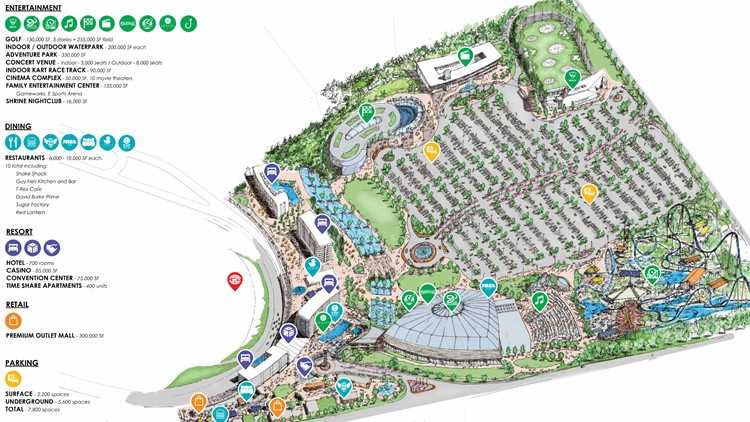 Most interestingly, the development would be in partnership with the Connecticut-based Foxwoods Resort Casino owned by the Mashantucket Pequot Nation. As a result, the gaming and entertainment bona fides of the project would be undeniable.
Indeed, it's the Foxwoods design team that brought Clark's new vision to life in the released renderings and conceptual work. That synergy makes sense, as Foxwoods is one of the sponsors of NASCAR events at AMS' sister facility, the New Hampshire Motor Speedway.
Says Clark about the pairing with Foxwoods:
"They've expressed interest in doing business with us. They're a great partner at New Hampshire, and they've got a resort in Connecticut that does very well."
But despite the apparent casino focus of the proposal, that's not the foundational commercial purpose of the development. In fact, according to Clark, the casino would merely be an ancillary attraction in a much larger family-focused experience.
"We're talking a full destination that caters to the entire family, and not just for people to come and gamble. As a matter of fact, the casino footprint would probably be 10 percent or less of the square footage of the entire operation…We would have no interest in [the project] if it was just a casino."
While the associated cost of the AMS project has not been itemized specifically, it is expected that the entire facility would call for a construction budget of at least $1 billion.
Statistics on direct and down-market economic impacts have not been released, though hundreds – if not thousands – of jobs would likely be created in the immediate region.
Here's hoping the Georgia legislature and resident voters get this show on the road!